♥ 5 Activities for a Spook-tacular Halloween ♥
Halloween in the U.S is a big thing and I'm so glad as I do love Halloween! ♥
Of course trick or treating is to me the best activity ever for Halloween, but if you're not a child anymore and going trick or treating isn't scary enough for you, here it is a list of the best 5 activities to do for a spook-tacular Halloween:
1. HAUNTED HOUSES
This is personally my favourite activity to do!
Alert: for those who like me are relatively new in the U.S, it's scary AF!!!!
Basically you enter in a haunted house, it's pitch black and they scare you to death! Even if you know they are actors and can't touch you, you're so involved, you can only scream and hope to get the hell out of there ASAP!
My favourite ones are:
Haunted House @Elks Lodge (Walnut Creek, CA)
It's a small house but it's very well done and this year it was super scary!
Tip: with a donation of canned food, you have 1$ discount on the ticket!
Pirates of Emerson (Pleasanton, CA)
Here, there are 5 different haunted houses which they change every Halloween.
This year the haunted houses were:
Psycopath
Haunted
Holiday Horror
Pirates of Emerson
Prison Panic
You can get an idea just looking at the names….. SCARY!!!!!
Needless to say the only thing I did the whole time was screaming!!! It's fun of course, you're scared but it's super super cool at the same time!
http://www.piratesofemerson.com/
2. HALLOWEEN PARTY
Go to a Halloween Party! This year we decided to go to a party in Napa at a winery which we're member: Castello di Amorosa.
The party was: The Pagan Ball. They do it every year but it was the first time for us and it was AWSOME!
The castle was all decorated for Halloween with webs, candles and Hallowen light effects on the walls.
Plenty of food, non-stop wine (don't drink if you drive!!!), a dance floor, an outdoor area with fortune telling and a HAUNTED HOUSE in the dark underground wine cellars!!!
Everyone was dressed up with super cool costumes and the party was amazing, we had a blast!
A super cool Halloween party not to be missed!
Tip: If you plan to go next year, book early as it solds out very quickly.
3. GHOST WALK
The charming town of Pleasanton is known to be haunted by ghosts and during the month of October, the Museum on Main holds the famous GHOST WALK!
It's a 2 hours historical tour through downtown with 9 stops where some paranormal activities happened. There are some actors impersonating the ghosts who tell their story and some interesting facts, for example go to the restaurant Gay Nineties, order a pizza and check the ladies' restrooms. There's a picture with a girl and the owner swears one day the picture changed and some tears appeared on the girl's face. There's no sign of painting or any scratches if you touch it! SCARY!
We learnt a lot, it's an interesting and fun way to know more about the city and be alert because numerous ghost trackers from all over the U.S come to Pleasanton to witness some paranormal activities.
TIP: Do the combo! Both the Ghost Walk and the Haunted Houses are located in Pleasanton. Do like me, I organized a whole Halloween theme night combining the Ghost Walk and the Pirates of Emerson! 🙂
http://www.museumonmain.org/ghost-walk.html
4. SARAH WINCHESTER  MYSTERY HOUSE
You can't miss the most haunted house in America for the spookiest night of the year!
I wrote a whole post about it, here it is the link with all the info you might need!
https://www.themilkyroad.com/travels/sarah-winchester-mystery-house/
5. PUB CRAWLING
Another way to celebrate Halloween is dressing up and go pub crawling.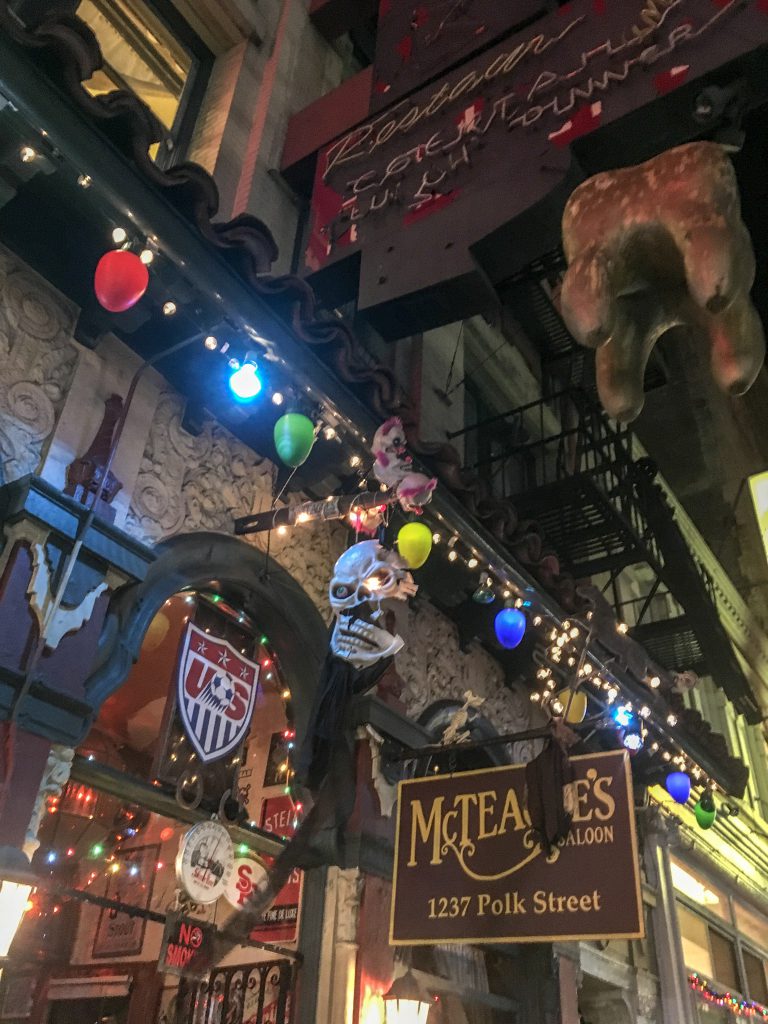 San Francisco offers lots of different options, and basically you buy a ticket which allows you to enter into differents pubs located nearby, all decorated for Halloween with spirits/beers/cocktails at a fixed price!
It's another chance to show off your costume! This time I switched the witch dress for Harry Potter! 🙂
♥ Happy Halloween!!!♥